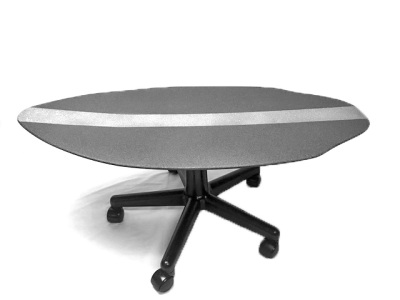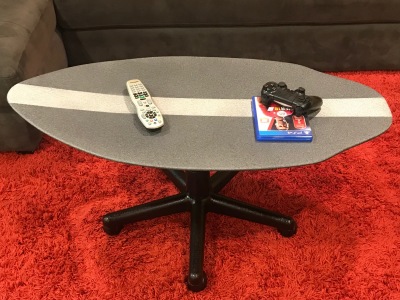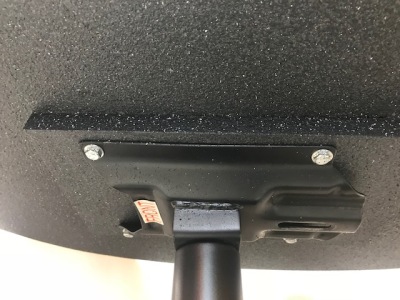 I have fallen in love with the texture of stone ground paint! This wooden boogie board was elevated to a new level using textured stone paint in charcoal (top) and black (bottom).  A racing stripe was added keeping in line with the "motion" theme.  The boogie board was mounted to the base of a repurposed desk chair.  The lever and hydraulics makes the coffee table height adjustable and the wheel base makes it ideal for mobility.  This table is great for a man cave, teen room, or any place that needs a touch of "cool".  

COUNTRYWOOD COFFEE TABLE WITH LIFT-TOP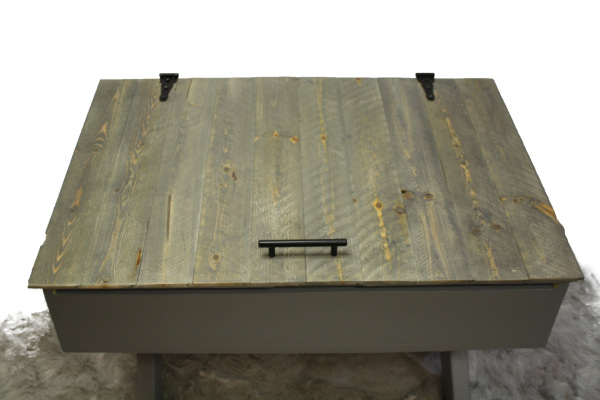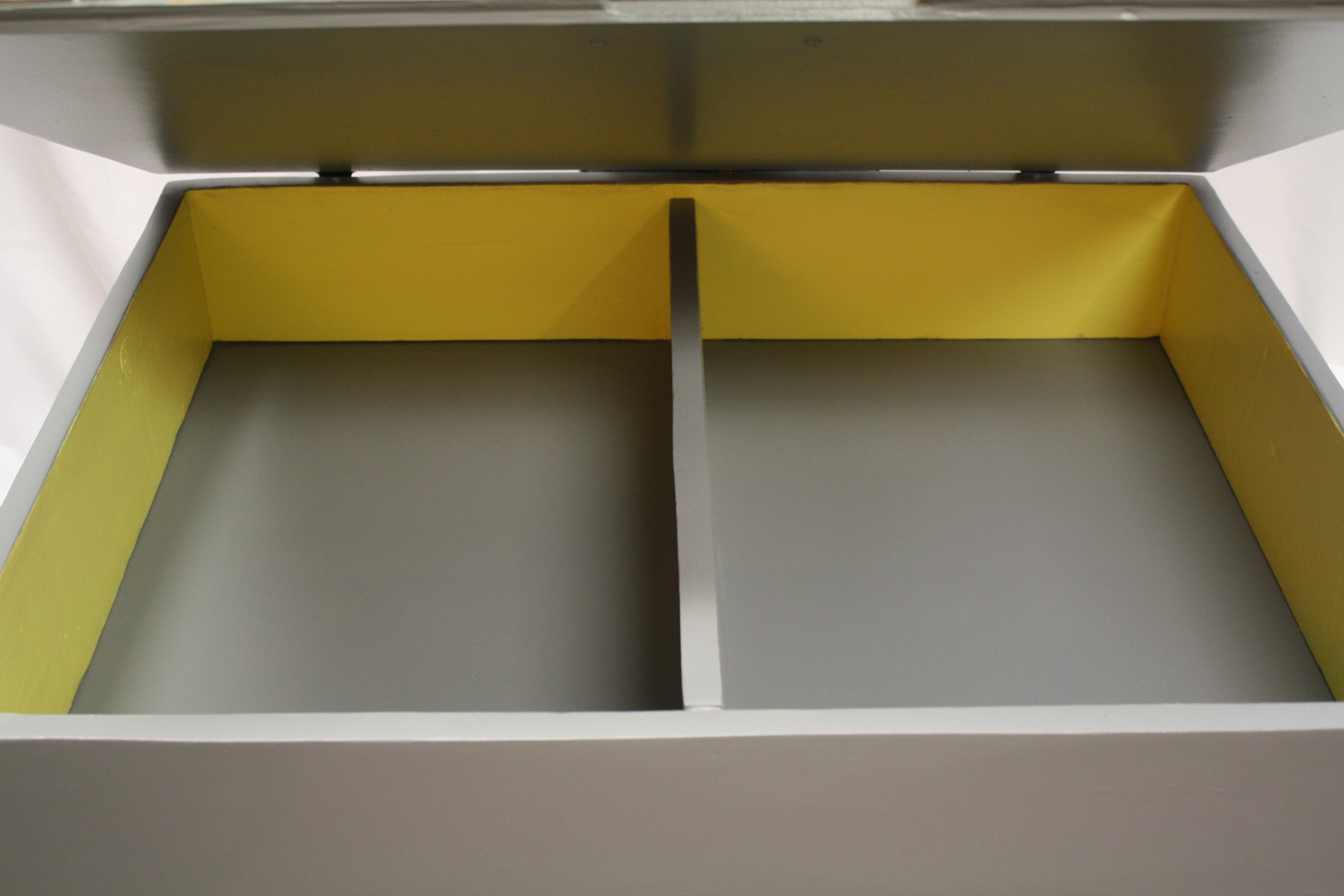 This country wood coffee table is an upcycling dream!!  The base started out as a 3-shelf wall unit with scalloped trimming (probably from the '70s).  With the scalloped trim removed the shelf unit was turned on its back and, voila, a coffee table  was born.  The cedar wood lift-top was upcycled from the door of a dresser and driftwood slats were affixed. Custom-made and new black hardware  give this coffee table a polished look.  I'm so proud of this piece and am excited to see it find a new home.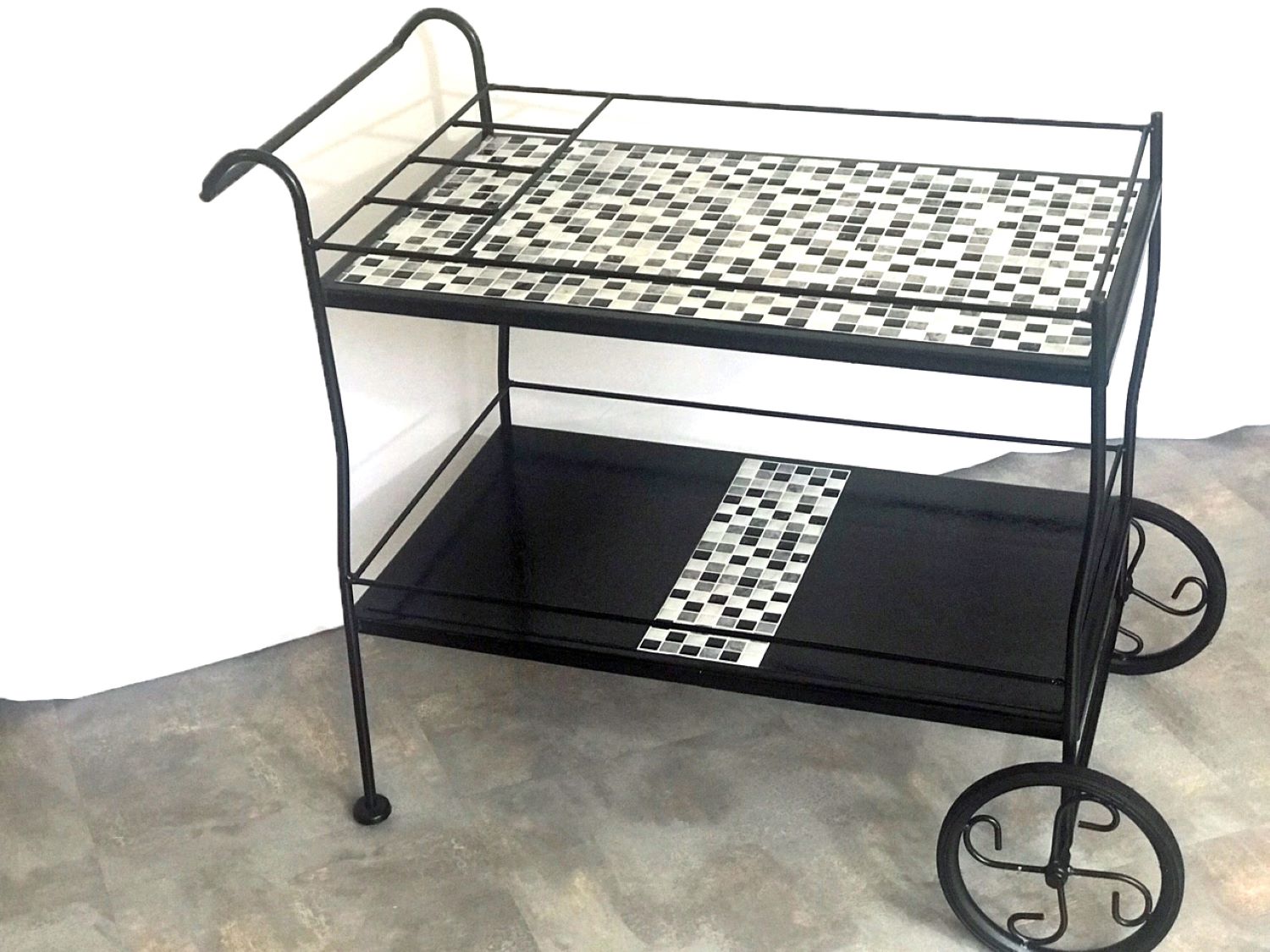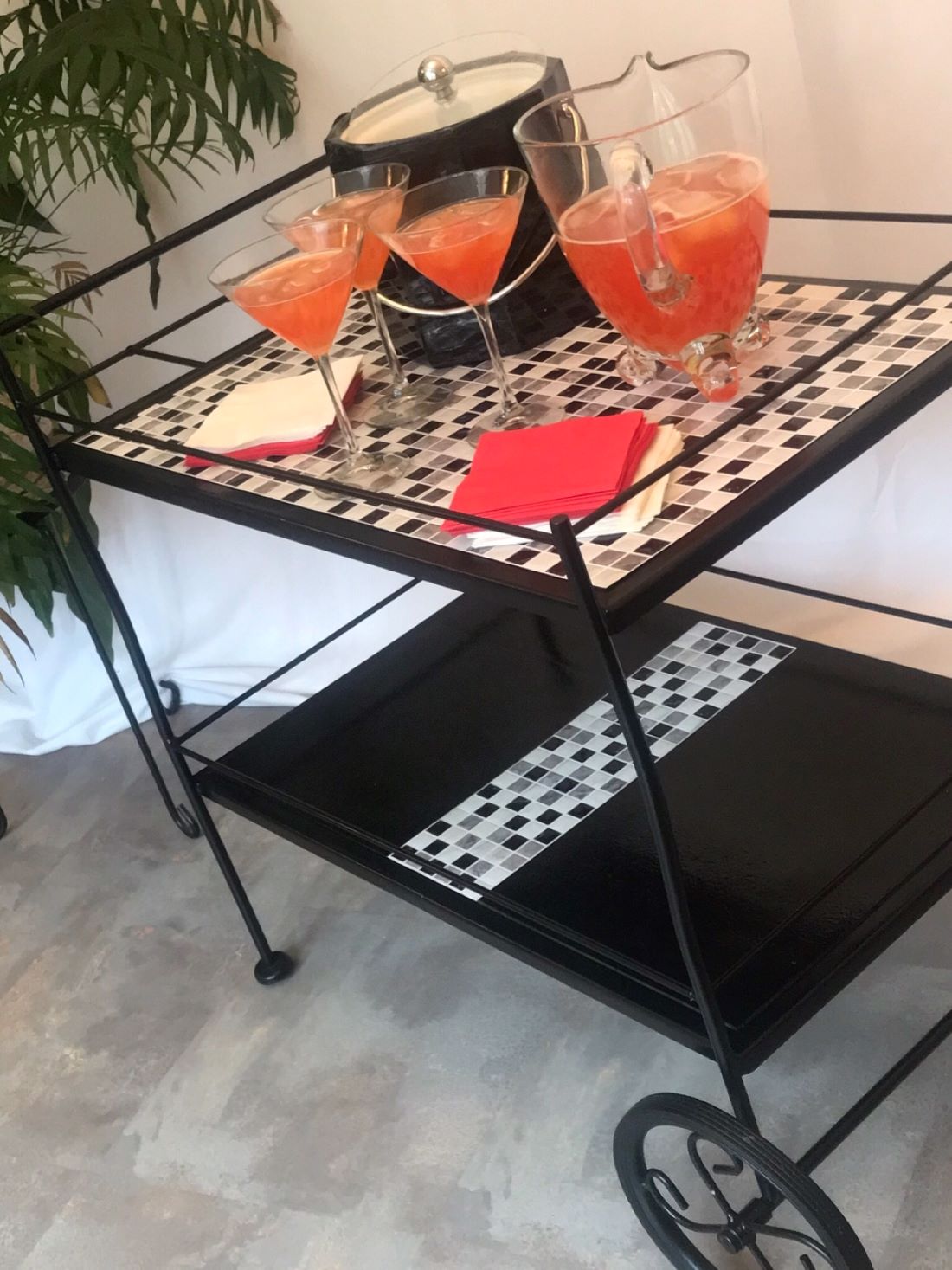 This sleek, tiled bar cart has been upcycled from a bland, boring and outdated piece to a sleek, comtemporary, and modern home accent. It is functional and stylish.  The vinyl tiles make for easy clean up.  It can be used for plants or beverages.  This bar cart is perfect for the person who loves eco-friendly upcycling and wants to show off their unique style.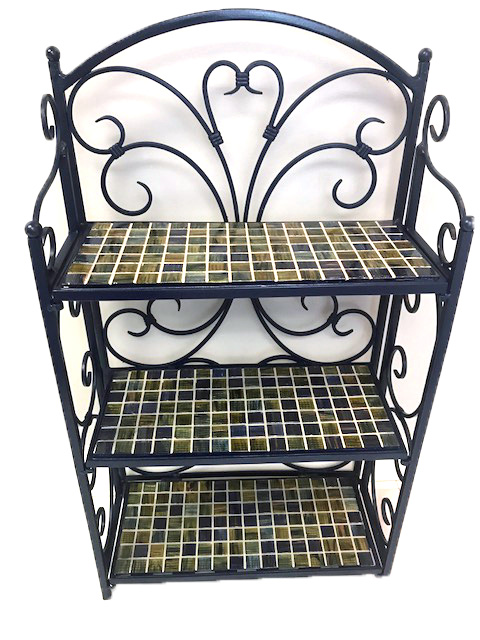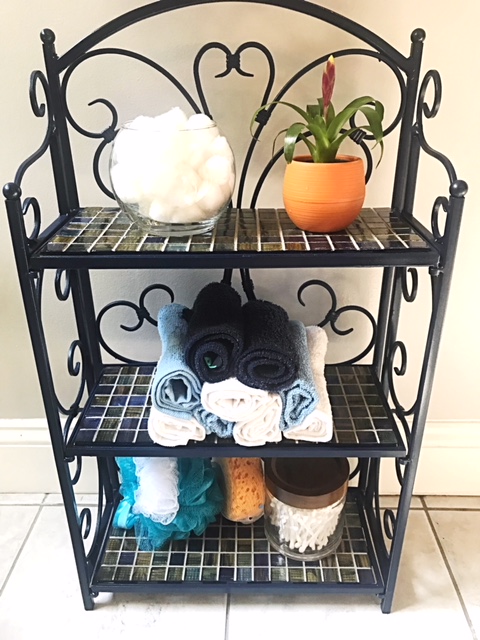 This decorative plant stand has been upcycled from "drab to fab" featuring multicolored, glass tile.  Use it as a traditional plant stand or even as a bathroom caddy.  Create an elegant and classic look in your living space with this one-of-a-kind piece.
This crate shelving unit was the first to be made in black with knotted pine table top and shelves. 

SOLD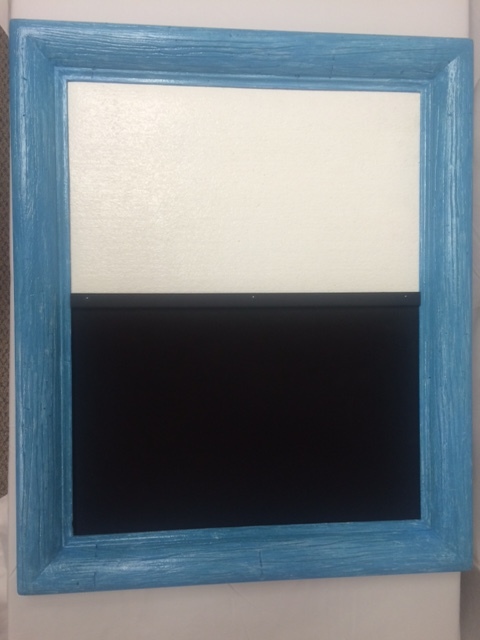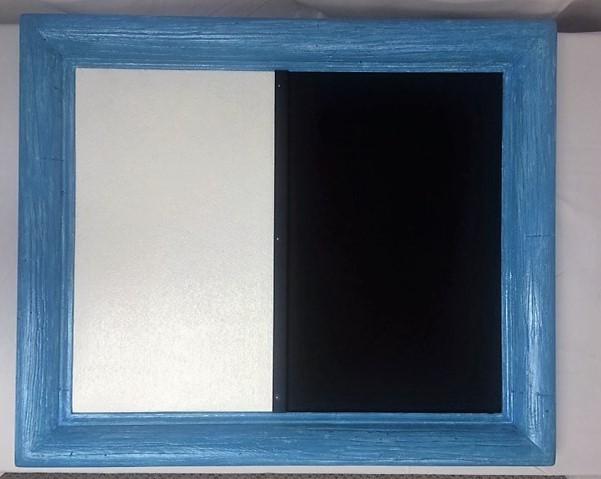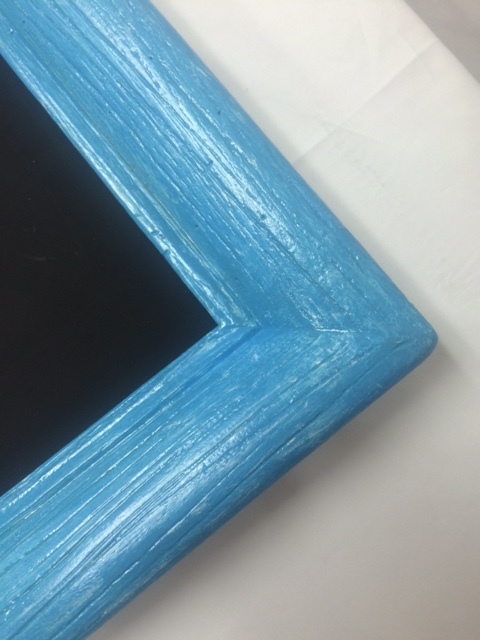 This vintage-modern frame is such a gem.  A wooden frame with detailed lined grooves gives it such character.  I wanted to modernize the frame and make it functional as well.  To this end, I gave it a chalkboard/corkboard interior and updated the frame with a bright blue paint, tipped with white highlights, and finished with a shellac to give it a sheen, protective finish. Sawtooth hooks are on both ends so it can be hung vertically in either direction.  This item is 

available

on my 

Etsy store @

www.etsy.com/angelinkexpressions.
This is a cool, one-of-a-kind

plant stand

made of wood balusters and metal grates from a barbecue grill (cleaned of course!). The wood was given a gray stain coating and a clear coat finish.  This item has been

SOLD.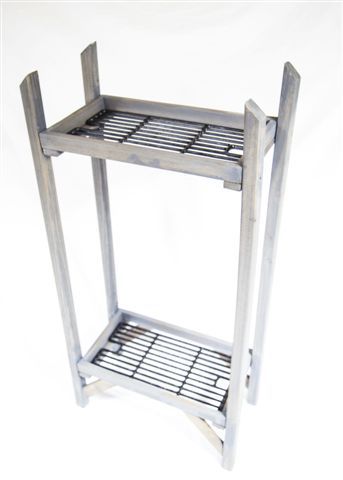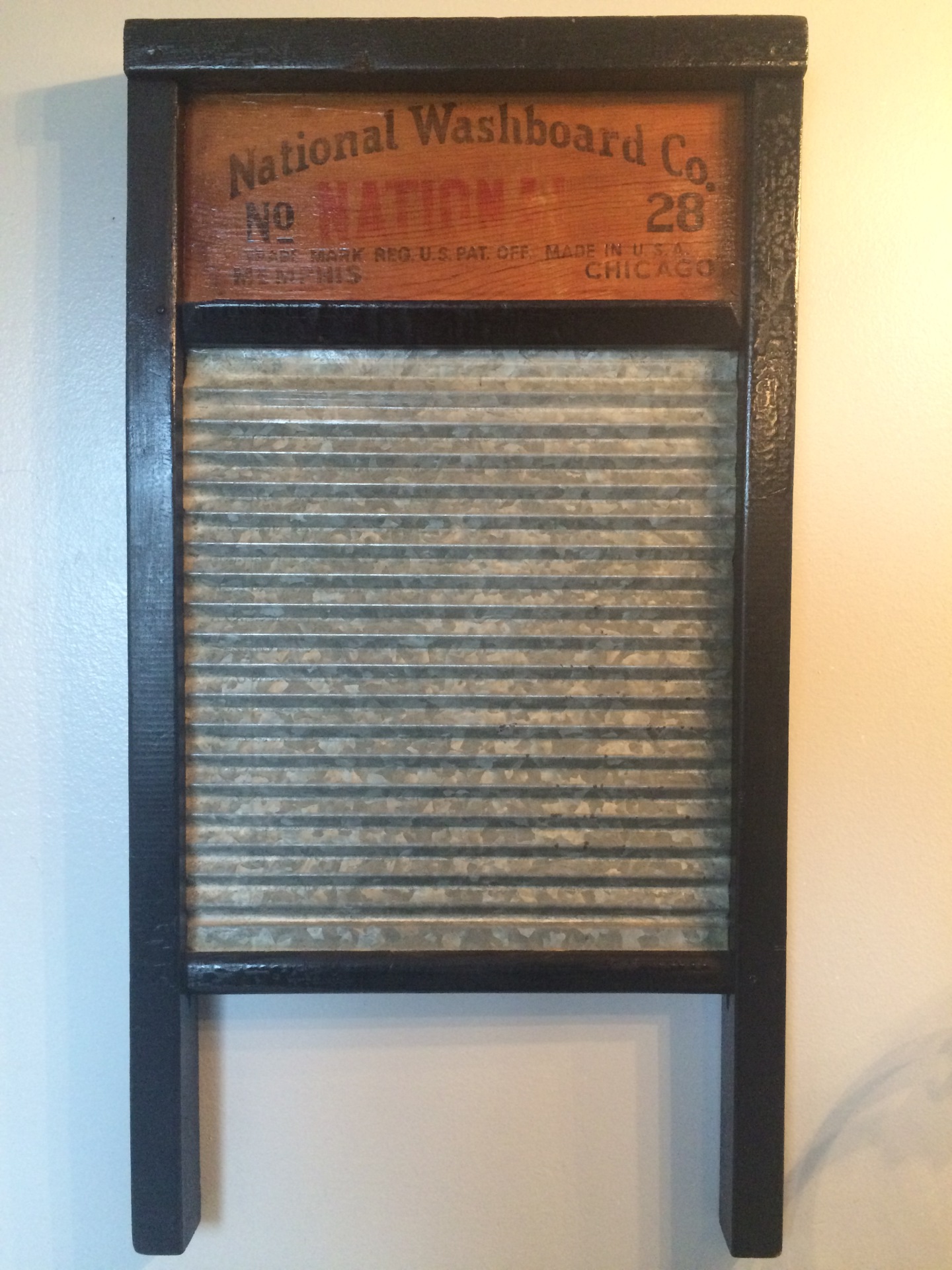 This

vintage washboard

is from the National Washboard Company No. 28 circa early 1900s.  The original wood and designs on both sides have been preserved and coated with polyeurathane.  The trim has been given a black high gloss finish.  This piece is perfect for a kitchen, mud room, or laundry room.  Decorative magnets can be used to display pictures or notes.

SOLD